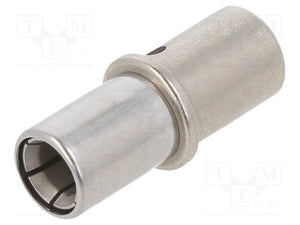 0462-203-04141 - CIRCULAR CONNECTOR CONTACT, MACHINED, DTHD SERIES, SOCKET, CRIMP, 6 AWG, 6 AWG
PART NO.
0462-203-04141
Secure & Safe Checkout

Product Overview:
The 0462-203-04141 is a Circular Connector Contact made of nickel plated copper. This crimp machined socket contact accepts 6AWG wire and suitable for use with HDP series circular connectors.

Applications: Industrial, Automotive, Medical

Product Information
Product Range: DTHD Series
Contact Termination Type: Crimp
Wire Size AWG Max: 6AWG
Wire Size AWG Min: 6AWG
For Use With: HDP Series Circular Connectors
Contact Plating : Nickel Plated Contacts
Contact Material: Copper
---