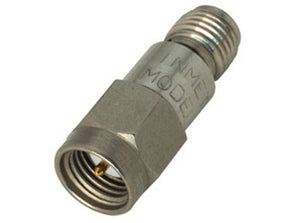 8532-SI-HV - 950 V, INNER DC BLOCK FROM 100 MHZ TO 18 GHZ
PART NO.
8532-SI-HV
Secure & Safe Checkout

The 8532-NI-HV from API Technologies - Inmet is a DC Block with Frequency 100 MHz to 18 GHz, Insertion Loss 1.5 dB, Breakdown Voltage 950 V, Operating Temperature -65 to 125 Degree C. Tags: Connectorized, Inner DC Block. More details for 8532-NI-HV can be seen below.
Part Number: 8532-NI-HV
Manufacturer: API Technologies - Inmet
· Type: Inner DC Block
· Frequency: 100 MHz to 18 GHz
· Insertion Loss: 1.5 dB
· Breakdown Voltage: 950 V
· Configuration: In Series
· Impedance: 50 Ohms
· Package Type: Connectorized
· Connector: N Type
· Grade: Commercial, Military, Space
· Operating Temperature: -65 to 125 Degree C
---